Training Command – Military Academy is a departmental educational and training facility of Ministry of Defence of the Czech Republic.
It is designed to organize and carry out basic, professional and special training, career military education, training of military professionals and Active Reserves of the Czech Armed Forces. It provides training of troops and units of the Czech Armed Forces for international deployment. It secures running and development of training facilities within military training areas of the Czech Armed Forces and further, simulation and trainer technologies utilized by the Czech Armed Forces; it also plans their use and within them, prepares conditions for training of Czech troops and NATO forces.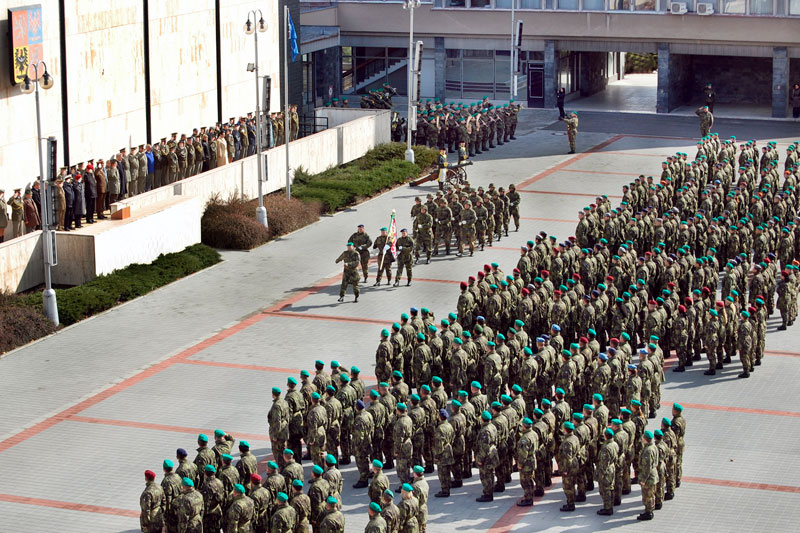 Training Command – Military Academy (TC - MA) is a permanent element of the command and control system of the Czech Armed Forces (CAF) responsible for carrying-out and development of professional training of its personnel in the form of career, professional, specialized, special and special-purpose courses, run particularly for the ranks of Junior Officers, Warrant Officers, NCOs, Enlisted Men, Active Reserves (AR), and civilian staff.
It controls and organizes basic training of recruits and secures military training of Defence University (DU) students within the scope of its domain.
It partakes in development of the doctrinal system of the CAF, especially in the area of combat deployment of army corps on tactical level, and also in production of internal regulations and military publications and develops information support for training of personnel. It plans and controls the use of classrooms and training facilities in military training areas of the Czech Armed Forces (MTA CAF) and participates on their modernization and development, including simulation and trainer technologies (STT) of the CAF.
It controls and coordinates activities of garrison units in composing a medium-term plan of garrison development and its gradual implementation.
TC - MA Priorities:
Secure high-quality professional training of personnel vital for meeting qualification requirements.
Maintain training capability of units for foreign operations.
High standard execution of basic training in accordance with new guidelines.
Qualification upgrade of our own staff.
Development of international cooperation with educational and training centres of NATO and EU member states. 
English