International Czech Army Championship – SUMMER SURVIVAL 2015 started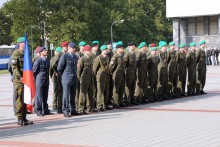 The prestigious international competition organized by the General Staff of the Czech Armed Forces and held by the Training Command – Military Academy is underway at Dědice Base, adjacent Military Training Area Březina and Protected Landscape Area Moravian Karst this week.
"It is a contest of 3-strong teams, requiring a high level of physical fitness, mental resilience and ability to cope safely with all areas of special physical training and small arms shooting. The route and tasks of the contest are based on soldier's movement and stay in unknown environment whilst carrying out his missions in isolation. There are, therefore, tasks testing individual abilities to respond flexibly, think logically and improvise as well as communicate effectively within a team." Major Roman Blahuta, Chief of Vyskov's Physical Education Section and at the same time, the Organizational Director of the contest, explains.
Apart from small arms shooting, this special PE contest also involves marching with and without equipment, map-reading, compass and drawing orientation skills, negotiating man-made and natural obstacles, first aid skills, self-help abilities, transporting an injured, distance and target throwing, swimming, diving, jumping into water, fording, transport on vessels, climbing and abseiling, making shelters, fire-making, food preparation and various other unusual and challenging tasks.
The contest's disciplines, however, are strictly secret as is usual every year. "We don't disclose any of the contest details in advance deliberately. Contestants receive detailed instructions for disciplines on the spot." Captain Dušan Nečas, another Vyskov's PE instructor and at the same time, the Chief Referee, clarifies, adding: "The creed of Survival is for the contestants to manage all the obstacles that either the organisers or nature itself put in their way, in a safe, smart and fast manner. And all that, troubleless and without any detriment to their health. "
This year, a total of 12 teams from units across the Czech Armed Forces and 4 foreign teams representing Lithuania, Poland, Canada and Slovakia have started. The German flag was also waiting for their contestants. The flag bearer, however, was left alone at the Opening Ceremony as the two registered German teams did not make it to the start in the end.
"Compete in the spirit of fair play, thus in accordance with the rules, sportsmanship, helping other contestants and remember that it is not important to win, but it is important to take part. ", Training Command-Military Academy Deputy Commander Colonel Josef Medal emphasized at the Opening Ceremony.
A few minutes later, SUMMER SURVIVAL 2015 was started with the first discipline Biathlon within the boundaries of the Tunnel Shooting Range. "It is based on the classic biathlon with some adjustments for military conditions. It included a running circuit through ragged terrain with a small-bore gun shooting station and a dummy-grenade target throwing station, Captain Dušan Nečas told us after it had finished. The ranking after the first day was as follows: The first three positions taken by Czech teams in this order: Military Police 1 Prague, 74th Light Motorized Battalion Bučovice and 13th Artillery Regiment Jince.
---
Text: cpt. Monika Nováková
Photo: Hana Jurčová
Vydal/a:
Monika Nováková (7. October 2015)