Management of the town Vyškov at soldiers again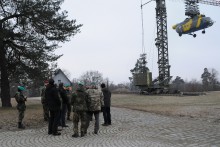 On Wednesday, 20th January 2016, the mayor of Vyškov Jiří Goldemund, together with deputy mayors Břetislav Usnul and Karel Jurka, paid their second visit to the Vyškov military.
Unlike the last year's visit at the base in Dědice – the educational and training centre, this year's visit took place at the Military Training Area Březina. The aim of this visit was to demonstrate to the city government the many ways of use of some of the special training facilities for training, which is not solely for the military and is carried out in Vyškov's centre for staff training.
The delegation of Vyškov's leaders, accompanied by the Commander of the Training Command – Military Academy Colonel Josef Kopecký and other academy's specialists, had an opportunity to see a parachute trainer "Colosseum", a training ground for control of combat vehicles, an infantry shooting range, a tank firing range, a log cabin campsite, and a water training ground Myslejovice.
During their visit, the Vyškov leaders gained valuable personal experience in the training of military drivers in the local Centre of Traffic Education, and shooting training as was demonstrated by local instructors of the Shooting School. They had an opportunity to see and try out some military technology and weaponry.
Both visits have undoubtedly contributed to a mutual cooperation between the leaders of Vyškov and the military that are an important part of the community. It is this year that the Vyškov garrison will celebrate 80 years since its foundation and also the 20th anniversary since the establishment of the Military Academy Vyškov. The military along with Vyškov citizens are planning great celebrations from 9 to 10 September.
---
Text: kapitánka Monika Nováková, tisková a informační důstojnice VeV-VA
Photo: Hana Jurčová, CKIT
Vydal/a:
Monika Nováková (25. January 2016)