We entered with more than five hundred recruits to the new year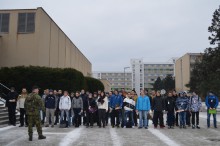 On Monday, January 4th 2016, 533 recruits and also 16 new members of Active Reserves filled the Dědice barracks. All these are now going to take part in basic training courses.
During their start in the Training Command - Military Academy, the newcomers were accompanied by temperatures of nearly ten degrees below zero and a heavy snowfall, which, in some of them, intensified their worst worries. It is this winter starting date that is one of the most demanding ones, mainly because of the weather conditions. But a soldier must be able to carry out the tasks regardless of the weather. In cold, rain, or vice versa in heat.
Among the newcomers there are both men and women aged 18 to 45. Whether all of them can cope with it, it remains to be seen. And why have they decided to undertake this? Lubomír Kolena, 23, a cook/waiter by profession from Svitavy, who is really drawn to the military career, considers this to be a kind of adventure and a chance to take part in a mission abroad. He is supposed to reinforce the 4th Rapid Deployment Brigade, specifically the Mortar Battery at 42nd Mechanised Battalion in Tábor. Marek Kolafa, Lubomír's future colleague, who studied safety and legal studies at the Police Academy, wants to apply his knowledge and skills; he was thus considering either a police or military career. 'I finally chose the Army, as the profession of a military professional is more appealing to me.'
Three comrades-in-arms have already experienced being divided into platoons, entry formalities, the first instructors' orders and the first "military" food. They are just waiting for the initial medical check-up. 'We have been sorted in alphabetical order, so from now on, we belong to the 3rd Platoon of the 1st Company,' explained Radim Frýba, Krystof Friedrich and Paul Haluza without hesitation. They arrived on Sunday evening, so they have already adjusted themselves to a completely new and specific environment, got to know each other, and that they did not underestimate their preparation is shown by their perfectly shaven heads. For thirty-year-old Radim, the military service is a strong family tradition in which he also wants to continue. And if he can manage to get through the training, he will become a chef at Chrudim's paratroopers. Kryštof sees the military profession as a very interesting job and is supposed to head to Žatec as a mortar loader. Both men are to reinforce the ranks of the 4th Rapid Deployment Brigade. Tall and athletic Pavel, who considers his future in the Army as a big challenge as well as a socially secure job, is supposed to go to the 7th Mechanized Brigade, specifically the 71st Mechanized Battalion in Hranice.
And what motivates women, whose numbers in the Army have been increasing gradually? For example, Zuzana Rabenseiferová, who is a nurse in the Military Hospital in Olomouc, welcomed the opportunity to combine her job with a military career. 'I will thus be able to participate in a mission abroad,' says Zuzana, 28, who is here together with two other colleagues – a paramedic and a radiologist. Her current seven years younger roommate Hana Sklenská, has been attracted by uniforms since her childhood, and eventually chose the green military one. Her dream could come true in the service at Motorized Battalion in Bučovice. But that is to be after the successful completion of a three-month basic course under the guidance of the most experienced instructors of the Centre of Basic Training and others within the Army. Both of them are expecting that it will be very demanding, both mentally and physically. 'We know it's not just about the training, but we must also learn a lot of theory and pass tests with several stages.'
Radomír Sitta, had already experienced that, as he had to leave the training for health reasons last year. He had to leave due to an injury, but he is a heart-and-soul warrior. A military profession has run in his family, he prefers dynamic jobs and he firmly believes that this time, he will succeed and get the position of a shooter at the 13th Artillery Regiment in Jince.
The year 2016 has also brought some changes into the basic training courses, namely, the training with the assault rifle CZ 805 BREN instead of the previously used machine gun 58, as well as more modern equipment in the form of supporting modular systems, which is more practical and comfortable when carrying out combat tasks.
---
Text: cpt. Monika Nováková
Photo: cpt. Monika Nováková, Vladimír Bezděk
Vydal/a:
Monika Nováková (6. January 2016)