It is important to be able to protect our homeland, members of the Active Reserve agree.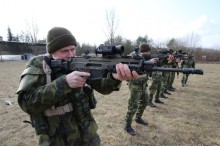 Sixteen candidates, including two women. This is this year's first group, which is doing its training at the Training Command – Military Academy in Vyškov. Among the candidates, there is also a city mayor of Frýdek-Místek, Michal Pobucký, whose interest in the Active Reserve has been sparked by the security situation in Europe.
Defending of homeland, worsened security situation in Europe, but also the interest in the military profession are the main things that unite the 16-strong group. At the moment they are in the middle of their training, and they have further three weeks ahead of them. Cold weather, icy wind, but also adrenaline and excitement – all of these are involved in their training. The candidates are of different ages, of diverse education and professions in their civilian lives. However, they are all in the same boat when it comes to participating in the Active Reserve. They pull together, support and egg each other on.
"I decided to take this step under the influence of events in Europe, because I do care about the security situation in our country, hence in our city, and I believe that the basic military training can be also beneficial in my role as a city mayor." said the private Michal Pobucký. At the same time he praised the team of which he is a part. "There are no differences in here, it does not matter who does what in civilian life. We work as a team. Our instructors are professionals and despite the intensive training, we try to manage everything and successfully complete the training. Defending the homeland is our motivation and goal, "he added.
His words are also confirmed by one of the two girls. "It was my decision, I think that it is very important to be able to defend the homeland, to assist during natural disasters, or help in any other ways in the Czech Army. I am not indifferent to security in Europe, and also I want to help, "said private Lucie Bulisová.
---
Author: Michal Voska
Video: J. Kouba
Source: www.army.cz

Video - Je třeba umět bránit vlast.mp4
Vydal/a:
Monika Nováková (22. January 2016)