Běla Gran Jensen is visiting the exhibition - 25 years of the movement "On Own Feet"- Centipede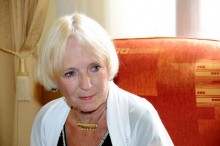 On Monday 15th February, the founder of the movement "On Own Feet" – Centipede, Běla Gran Jensen, is going to visit Dědice base. She will personally support the exhibition which is dedicated to 25 years of this movement.
The exhibition was moved to the Vyškov's garrison from Plzeň earlier this year, and covers the work of this movement, in which the Army of the Czech Republic, including the Ministry of Defence, also significantly helps. Throughout more than two decades of its existence, it has managed to spread to several areas affected by war. Projects, in which the members of 103rd centre CIMIC/PSYOPS have been involved very often, include, among others, the purchase of equipment for schools, a great deal of medical devices and equipment, reconstruction of buildings and many more. The cooperation with the children's movement Centipede means for us successful implementations of many projects in the territory of Kosovo, and in recent years in Afghanistan as well. These projects have helped many schools, villages, and especially the people in war-torn countries.
Along with Běla Gran Jensen and members of the Training Command – Military Academy including students of the basic training course, also representatives of the Vyškov City Council, 103rd centre CIMIC/PSYOPS and pupils of Vyškov's primary school ZŠ Morávkova accompanied by the school administration will all meet at the exhibition exactly at 12 a.m.
The public was able to see this exhibition during the military oath ceremony on Thursday 4th February.
Vydal/a:
Monika Nováková (9. February 2016)